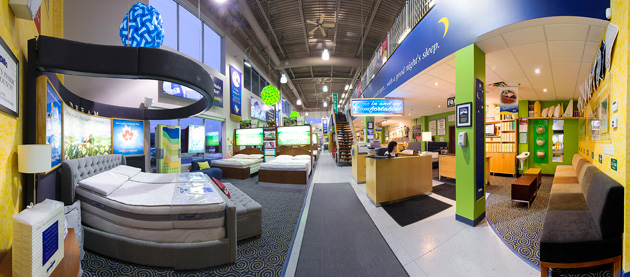 Vaughan Factory Showroom
Foamite manufactures quality foam products for the furniture, bedding, automotive and packaging industries. We stock over 45 grades of flexible polyurethane foam that can be cut, shaped and fabricated to the exact specifications that you require.
We also have a dream to supply you with the best and most comfortable mattresses made with the best grades of foam from all over the world. Our new Swiss Sensal mattress is made just for you with the latest and best comfort ingredients found in all of North America and Europe.
These ingredients include: Koosh Natural foam, intelligent iFoam, NeoGel, Organic scented covers with Swiss wool quilting, breathable 3D borders, European styling and mattress constructions that will give you the best air circulation, comfort, support and durability.
You can buy the least expensive or the best custom mattress at a great factory direct price.
Want to sleep better or sit on something more comfortable?
Foamite gives you the solutions that you need to succeed.
Toronto Factory Store
The Foamite Factory Store is located in the east end of Toronto. It has a mattress showroom up front, a foam cutting workroom and storage in the back. On the premises, we can cut down larger pieces of foam to any size that you may require. If it is not too difficult we may even be able to do this while you wait.
Drop by and take a look at the 45 different grades of foam on display. Sit down on the big comfy couch, where you can try the different densities and choose your desired comfort level.
Come In and Get Comfortable!